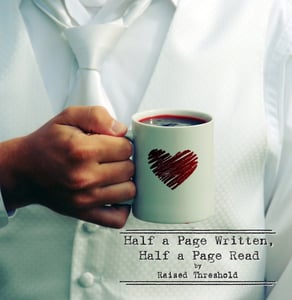 $

5.00 - On Sale
Hoping to break into the music scene with a new flavor, Raised Threshold desires to offer something different to the genre of rock'n'roll. From mournful yet soothing strings to biting and vibrant guitars, groovy basslines to intricate drum patters, creative piano to experimental synthesizers, and harsh screaming to powerful, warm harmonies, Raised Threshold blends a slight experimental twinge with modern rock. With meaningful lyrics and energetic portrayal, Half a Page Written, Half a Page Read will lead the listener down a path discovering life, love, hope, tragedy, and all the circumstances that follow--all meshed into a catchy, rhythmic 12-track album.
As life goes on, we only see what has past and what is present; what follows next is still a mystery. Like a story being written, the only known fact is what has already occurred. Page after page is written, yet all is only Half a Page Written, Half a Page Read. The end remains ambiguous. An ordinary man wanders this path looking for what happens next. Life is a story unfolding with each second that ticks by. What choices do we make? What is there to hope in? Is there hope? The questions stay, but the answers are within our grasp.
Armed with a message of hope and love, Raised Threshold stands to tear down the walls of segregation that the world has built and offer everyone a little something to hold on to. While every musical style has its own definitive and diverse group and scene, the band desires to bring a single ideal fo the forefront: unity.
More than music.
Tracklist
1. Prologue
2. The Story
3. Move With The Music
4. Alone On A Dark Night
5. I Am The Culprit
6. Interlude ~ Serenity & Forgiveness
7. Tomorrow's Sunset
8. City Of Makebelieve
9. Idiocracy
10. Mannequins
11. So Close To Me
12. Epilogue